PRODUCTS & SERVICES
INFORMATION OPERATIONS
ONLINE SUPPORT
WEBLINKS
OTHER UTILITIES
COUNTER
HISTORY




POST AND TELECOMMUNICATION SERVICES CONSTRUCTION WORK JOINT-STOCK COMPANY (formerly the Post Office Engineering Companies in Ho Chi Minh City) is a unit specialized in construction works in telecommunications. Established by Decision No. 61/2004/QD- BBCVT on 09/12/2004 of the Minister of Post and Telecommunications.





PRODUCTS & SERVICES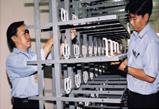 Exchange installation
Update: 25-08-2010
Installation of various types of electronic exchange systems, PABX-Fax (with conventional and advanced technologies, such as CDMA, ADSL, etc.), switching-transmission equipment, data transmission equipment and related systems (AC-DC power supply, air conditioner, grounding and lightning, fire alarm, lighting, etc.).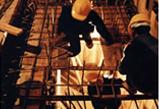 Cable duct and manhole
Update: 25-08-2010
Construction and installation of antenna masts shorter than 150m (about 200 units per year), production of accessory parts for cable network (e.g. concrete pole). Practically, approximately 200 antenna masts and over 3.000 concrete poles of different types are produced per year).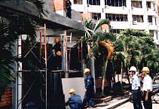 Construction Architecture
Update: 25-08-2010
Construction and maintenance of building for exchange and stations, cable duct and manhole system, especially the production and installation of customized concrete manholes. Our annual work load in this field is over 100Km of cable duct and 1000 manholes.


NEWS & EVENTS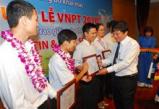 Lễ kỷ niệm 65 năm ngày truyền thống ngành Bưu điện Việt Nam.
Update: 17-08-2010
Ngày 14/8/2010, tại Cung Văn hóa Hữu nghị Việt Xô – Hà Nội đã diễn ra Lễ kỷ niệm 65 năm ngày truyền thống ngành Bưu điện Việt Nam.